Here's what's new in cccone.com 2021.07.23 release for Repair Facilities.
Note: The availability of the features listed below may vary based on the products licensed by your company.
Photo Capture
You can now capture photos directly to the CCC ONE workfile using your tablet device. Launch your device camera from the workfile Photos and Vehicle screens in cccone.com by following these steps:
Open a workfile to the Photos screen
Tap the camera icon on one of the photo placeholders (e.g., Left Front)
If prompted, allow cccone.com access to the device camera
Take the photo
The photo is saved to the workfile. To take additional photos, select the Add photo button in the toolbar or the large + button in the Additional Photos section.
No camera? That's okay. When you choose to add a photo, just browse for your photo in the file explorer window that's displayed.
Figure 1
View customer photos in Jumpstart
Customer photos are now available in the Jumpstart screen for insurance photo assignments.
To view customer photos:
Open a photo assignment to the Estimate screen
Select Jumpstart estimate
Select the Customer tab in the bottom, left side of the Jumpstart screen
Use the left and right arrows in the middle of the screen to view all customer photos
To review shop photos again, simply select the Repair Facility tab.
Figure 2
Insurance chat
Carriers enabled with insurance chat can now send chat messages on assignments. When a new chat is received, a notification is added to the Action Center. You may also see an alert when opening the associated workfile. Follow these steps to join a chat with the insurance company:
From Action Center (Figure 3):
Select the orange alerts button in the upper, right-hand corner of the Workfiles screen
Under Action Items, select Insurance Chat
Select an insurance chat item to view message details
Select the Chat button on the right side of the screen
From the workfile (Figure 4 and Figure 5):
Select the Chat button in the Workfile alerts screen or
Navigate to the Contacts screen, then select Chat with insurance in the toolbar
In all cases, a chat window opens in another browser screen.
NOTE: The chat feature is only available on insurance assignments. Only users with permission to lock estimates may participate in chats with the insurance company. Not all carriers have this feature enabled.
Figure 3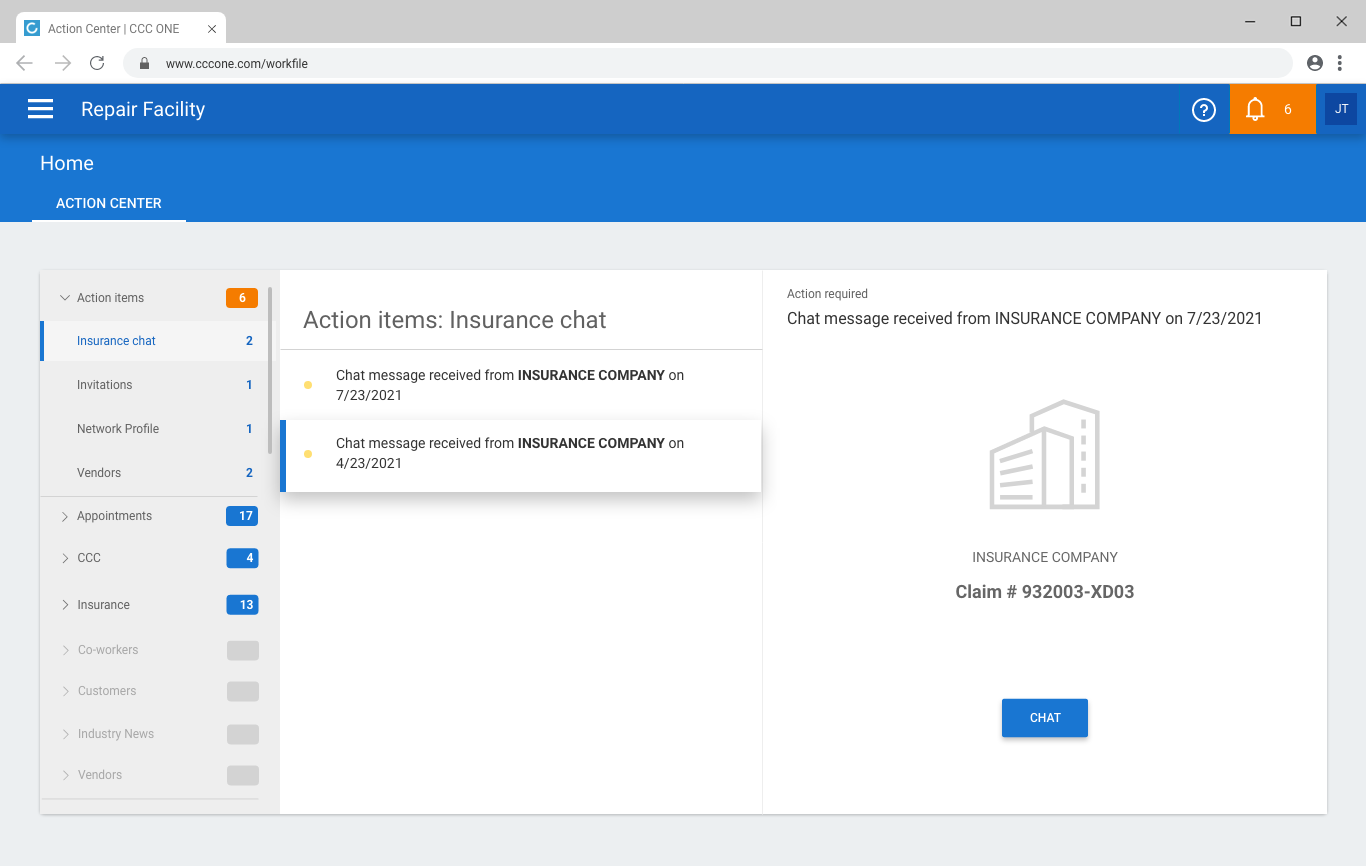 Figure 4
Figure 5