Here's what's new in version 22.0.07140 of CCC ONE® Estimating for Repair Facilities.
Note: The availability of the features listed below may vary based on the products licensed by your company.
Access workfile search on cccone.com
It's now easier to access workfiles on cccone.com. To access cccone.com:
Go to the Workfiles view
On the right-hand side of the search results toolbar, select www.cccone.com
If you don't see the link, expand the screen so that it's wider. Once selected, cccone.com opens in your default web browser to the Workfiles screen. From there you can search for and edit workfiles on the web.
Learn more about the features available on cccone.com.
Figure 1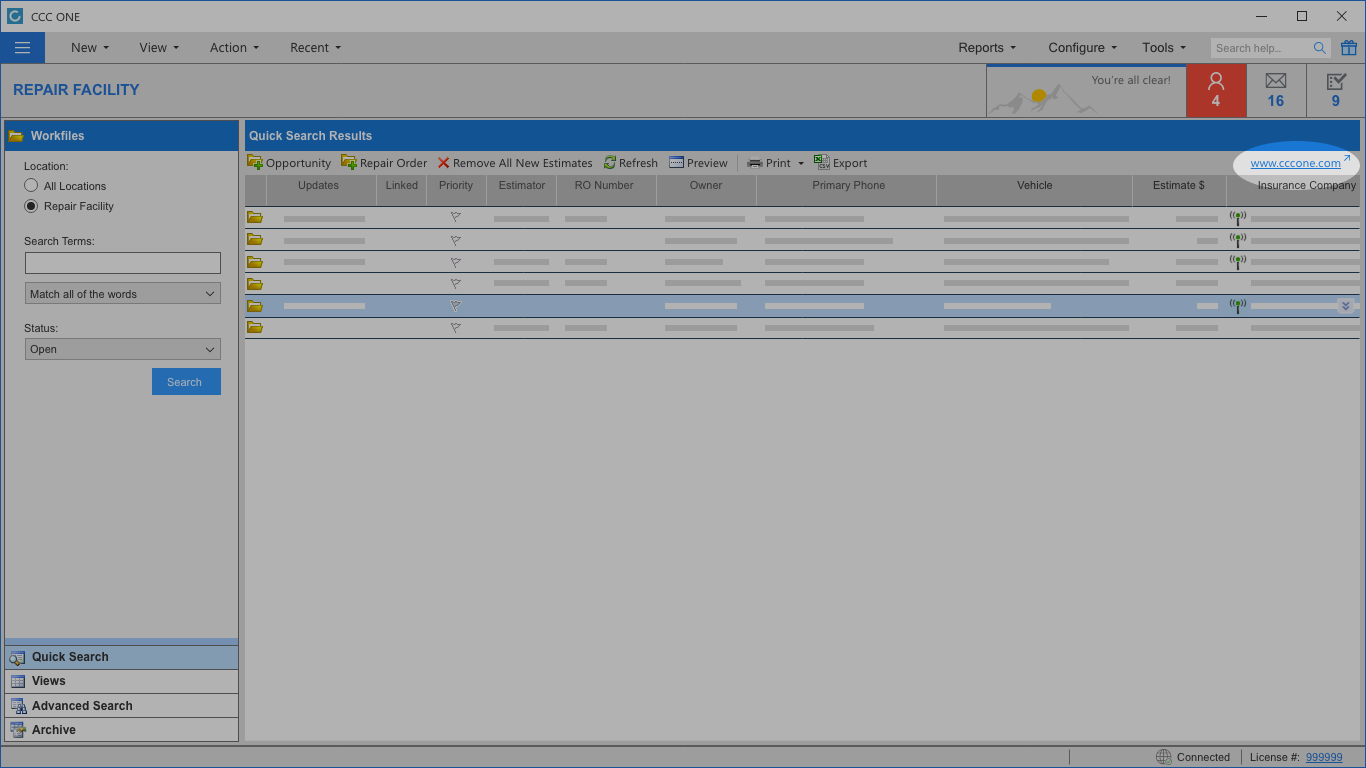 Insurance chat
Carriers enabled with insurance chat can now send chat messages on assignments. When a new chat is received, a notification is sent to the messages inbox under My Work > My Inbox > Insurance Companies. You may also see an alert when opening the associated workfile. Follow these steps to join a chat with the insurance company:
From My Inbox (Figure 2):
Select the menu button in the upper, left-hand corder
Select My Work to view the My Work dashboard
Select My Inbox, then select Insurance Companies
Double-click on an insurance chat message to view details
Click the link within the message detail
From the workfile (Figure 3 and Figure 4):
Click on the link included in the orange warning bar at the top of the screen or
Click New from the Workfile tab, then select Insurance chat
In all cases, a chat window opens in your default web browser.
NOTE: The chat feature is only available on insurance assignments. Only users with permission to lock estimates may participate in chats with the insurance company. Not all carriers have this feature enabled.
Figure 2
Figure 3
Figure 4