Artificial intelligence is now available on cccone.com to repairers using the CCC® Engage customer experience platform. Advanced AI technology, along with configurable estimating logic, helps estimators assess repair needs and produce detailed estimates quickly.
Machine learning is applied to customer damage photos on insurance assignments to generate damage heatmaps, damage predictions, and repair hour predictions. When an assignment is received with customer damage photos, use Jumpstart Estimate to retrieve AI heatmaps and predictions.
Damage Heatmaps
Damage heatmaps highlight areas of damage on photos captured by the customer. Use heatmaps to focus in on and evaluate vehicle damage. The heatmap switch on the bottom right corner of the photos section allows you to hide and show the heatmap overlay on customer photos.
Note: The heatmap feature is only available on customer photos at this time.
Figure 1
Damage & Operation Predictions
Damage predictions highlight potentially damaged parts on the Jumpstart screen. Both Replace and Repair buttons will be highlighted light blue. Operation predictions are represented by a percent value displayed on the right side of the Replace and/or Repair button.
Further enhance Jumpstart by automatically applying operation predictions when a specified threshold is reached. When the operation prediction exceeds the threshold, either Replace or Repair operations are automatically selected.
Figure 2
Labor Hour Predictions
AI predictions may return repair labor hours for parts. To view repair hour predictions, hover your mouse over the Repair button. Repair hours are displayed in a tooltip when labor hour predictions exist.
Repair hour predictions may also be configured to automatically apply to the estimate. When the Repair operation is selected, Jumpstart will pre-populate labor hours with predicted repair hours when prompted to enter repair time. The pre-populated field is highlighted with a purple warning icon. Edit hours as appropriate to complete Jumpstart.
Figure 3
Figure 4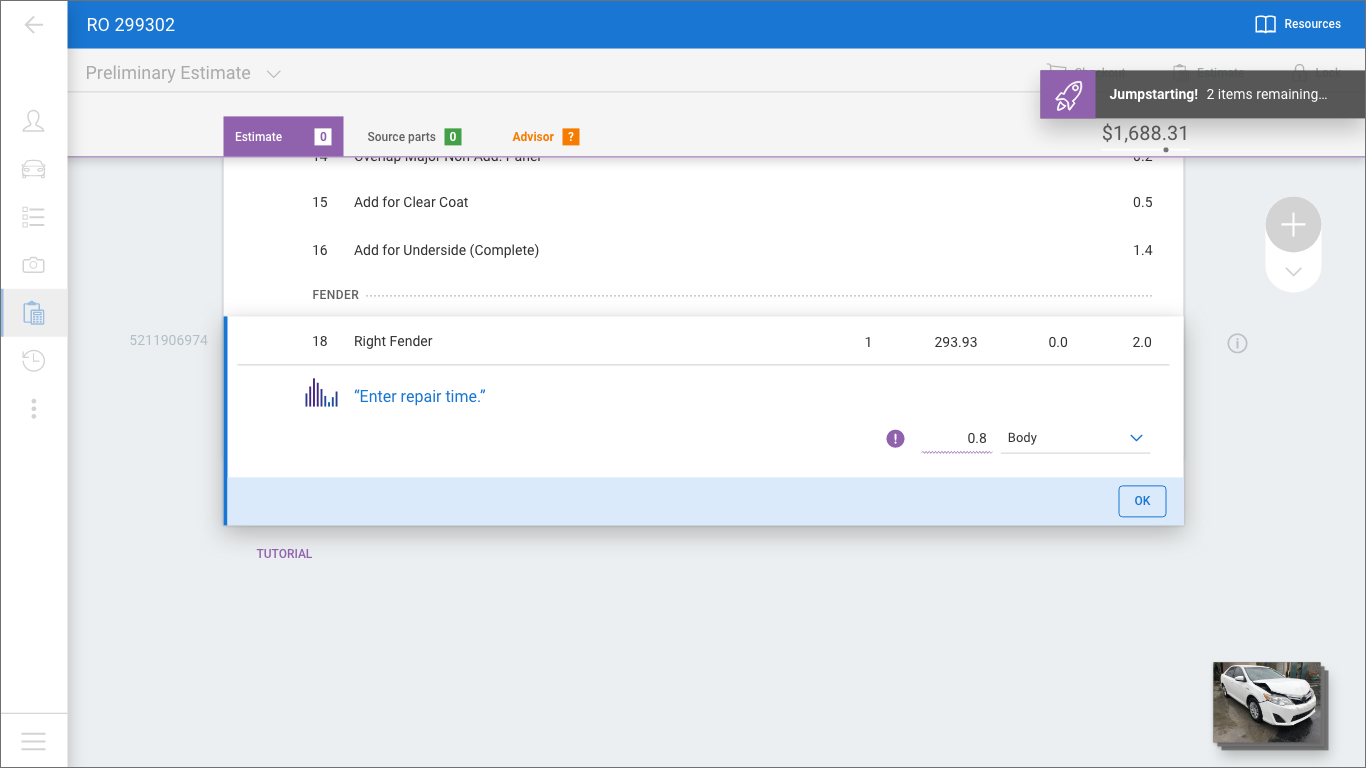 Related articles: